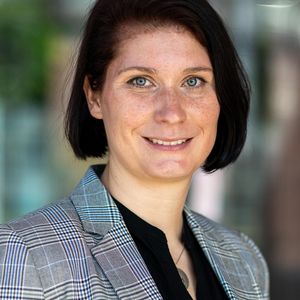 External Doctoral Student
Room: HK14b 226
Dr.-Hans-Kapfinger-Straße 14b
Eva Katharina Donner graduated in Economics (M.Sc.) from the Friedrich-Schiller-University Jena in 2014. Since October 2014 she is the executive assistant to the Administrative Director of the Helmholtz Centre for Environmental Research. Furthermore, she is lecturer at the University of Cooperative Education in Leipzig for World Economy and Risk Management. Since 2020 she is external doctoral candidate at the University of Passau and focuses her research on organizational change caused by the claim to increase transparency. Katharina gained valuable job experience in company organization, scientific and strategic management.
Research Data Management Systems

Influence of technical developments on the scientific landscape

Sustainable and strategic management

Sustainable business models and sustainable forms of economic activity (e.g., decoupling of growth)
Donner, E. K., & Bort, S. (2023, September 29 – October 02). CEO Power, Top Management Team National Diversity, and Sustainable Development Goals (SDGs) Engagement: Evidence from the largest German multinational corporations [Conference presentation]. 43th Strategic Management Society (SMS) Conference, Toronto, Canada

Donner, E. K., & Huber, C. M. (2022, December 06–07). Institutionalization of Research Data Management in Higher Education Institutions – Linking the Micro, Meso, and Macro Levels [Conference presentation]. 35th Australian & New Zealand Academy of Management(ANZAM) Conference, Queensland, Australia.

Donner, E. K., & Huber, C. M. (2022, June 15-17). The institutionalization of research data management: A micro-meso-macro link? [Conference presentation]. EURAM 2022, Winterthur/Zurich, Switzerland.

Donner, E. K. (2022) Research data management systems and the organization of universities and research institutes: A systematic literature review. Journal of Librarianship and Information Science. 1-21. DOI: 10.1177/09610006211070282

Donner, E. K., & Huber, C. M. (2021, September 23–24). Cultural change in research data handling – How should higher education institutions deal with this? [Conference presentation]. 45th WK Org Workshop, Lüneburg, Germany (virtual due to COVID-19 pandemic).