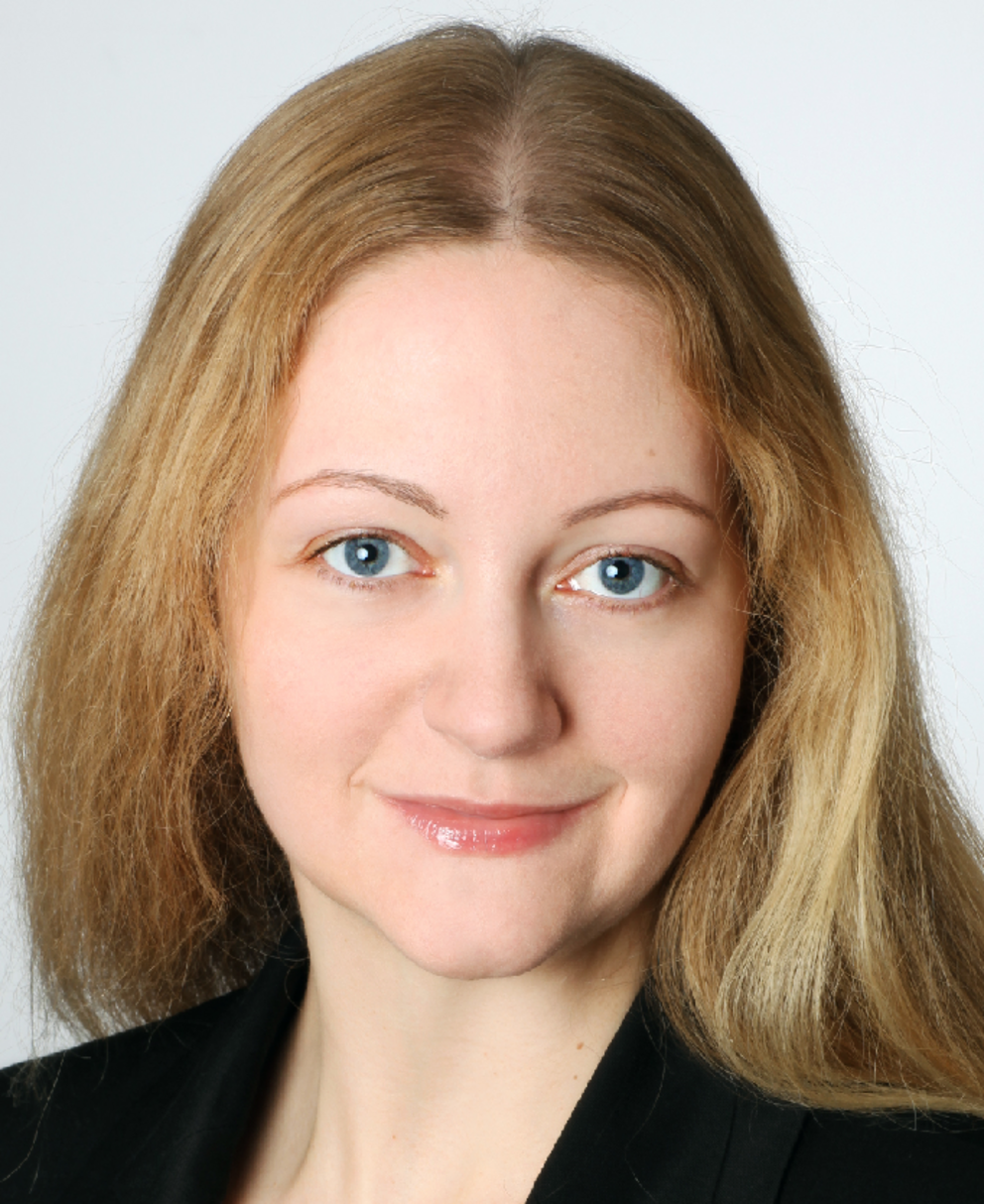 Prof. Dr. Vanessa Flagmeier has been appointed to assistant professor for business administration with a focus on accounting. Her research focuses on the intersection of financial reporting and tax accounting.
During the winter semester we offer a bachelor course on basic accounting and a master course financial statement analysis in English. The course programme for the summer and further information on bachelor and master theses will follow.
The main research areas cover the transparency of financial statements with a focus on tax information. Another focus is the financial reporting of private companies.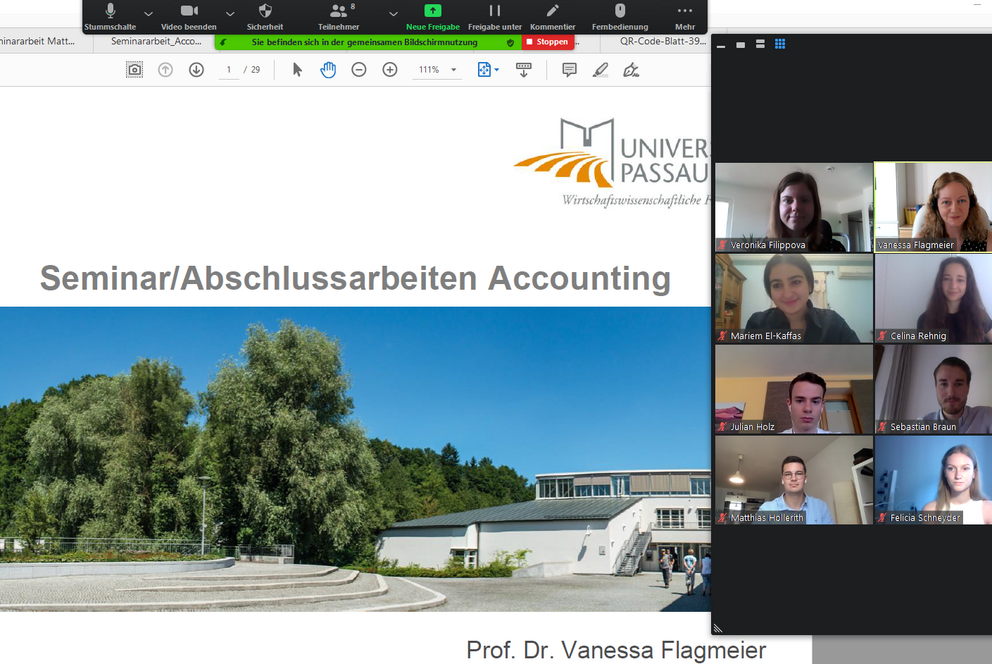 Is there a connection between financial reporting and the digitalization of companies? This exciting and highly topical question has been approached by bachelor- and master students in Prof. Dr. Vanessa Flagmeier's brand new seminar.
For the new accounting seminar in the summer term 2021, Prof. Dr. Flagmeier chose the topic digitalization and financial reporting. Bachelor- and master students empirically analysed the relation between digitalization and various parameters of financial reporting for a sample of German MDAX companies. The analysis focused on the length of annual reports, the timing of their publishing, audit fees, history of available annual reports, earnings management and tax avoidance.
After a joint kick-off event the students worked alone or in teams on their topic, presented interim results in May and recently handed in their seminar paper after a two-month working period. In a final workshop the results were presented and discussed.
A central issue of the empirical analysis was assessing the degree of digitalization in each company. Students had to be creative and followed various approaches. They used parameters like the frequency of terms associated with digitalization in annual reports, the technological proficiency displayed in a company's website, digital competence on the management level and different industry indices. Results show that it is mostly companies in the media and communication industry that exhibit a high level of digitalization whereas real estate companies tend to be less digitalized.
The seminar digitalization and financial reporting showed to participants the exciting development of digitalization in accounting that has become a focus of research in recent years. Prof. Dr. Vanessa Flagmeier's seminar thus also contributes to one of the University of Passau's research guiding themes 'Digitalisation, Networked Society and (Internet) Cultures'.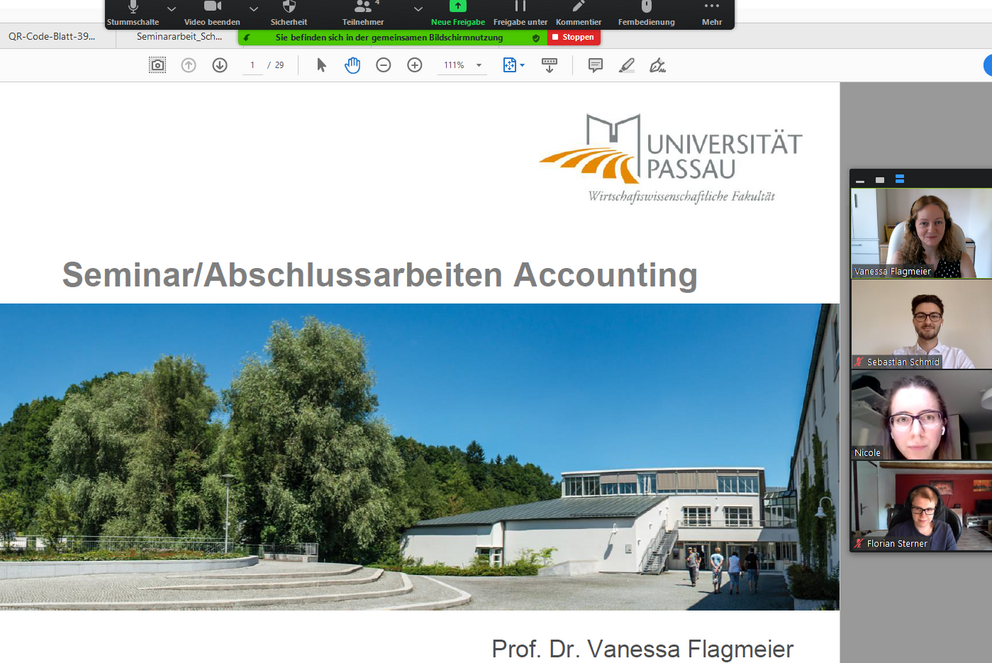 Universität Passau
Wirtschaftswissenschaftliche Fakultät
Juniorprofessur für Betriebswirtschaftslehre mit Schwerpunkt Accounting
Innstraße 27
94032 Passau
Office:
Anja.Schwendner@uni-passau.de
Phone: 0851 / 509 5091